"Would you tell me, please, which way I ought to go from here?" said Alice.

"That depends a good deal on where you want to go," said the Cheshire Cat.

"I don't much care where," said Alice.

"Then it doesn't matter which way you go," said the Cheshire Cat.
That is a short section from Alice's encounter with the Cheshire Cat in Alice in Wonderland.
Where Are You Going?
To me, that scene from Alice in Wonderland is a fantastic reminder that defining "where you want to go" is very important in business and in life. It's hard to get where you are going if you don't know where you are going.
Earl Nightingale, in his audio program Lead the Field, defines success this way:
Success is the progressive realization of a worthy goal.
"It means that anyone who's on course toward the fulfillment of a goal is successful. Now, success doesn't lie in the achievement of a goal, although that is what the world considers success. It lies in the journey toward the goal.

We're successful as long as we're working towards something we want to bring about in our lives. That's when the human being is at his or her best."
I like this definition of success because it points out that success is as much about the "journey toward the goal" than the actual achievement of the goal. But it makes it clear that it all starts by having a worthy goal in the first place. You must have something that is important to you to strive toward in order to begin your journey.
You have to define "where you are going." Then monitor and savor your progress along the way.
I have found Nightingale's statement "We're successful as long as we're working towards something we want to bring about in our lives" to be very true in career, business, and life.
Setting "worthy goals", and thinking about them all the time, is not only fun and engaging… it is a big part of what success is all about… "the progressive realization of a worthy goal".
Here are a few examples of big (aspirational) goals from my career that have been especially inspirational and rewarding for me.
Think Big… But Go Small
Gary Keller and Jay Papasan wrote a fantastic book, The ONE Thing: The Surprisingly Simple Truth Behind Extraordinary Results.
One of the concepts they talk about in the book is the power of Goal Setting to the Now. This involves setting big goals for the future. (This is about answering the "where are we going" question.) Then thinking small by drilling down to what you should be doing right now to create progress toward your big goal. (This is about the steps we can take right now to begin and continue the "journey.")
It is a blend of thinking very big and bold about your future, or the future of your business, but going small by taking a single step that moves you in some very small way toward your ambitious goal.
Here are some quotes from The ONE Thing that I believe are incredibly insightful:
"Knowing your future goal is how you begin. Identifying the steps you need to accomplish along the way keeps your thinking clear while you uncover the right priority you need to accomplish right now.

No matter the objective, no matter the destination, the journey to anything you want always starts with a single step. That step is called The ONE Thing.

… When you know where you're going and work backwards to what you need to do to get there, you will always discover it begins with going small. You must survey your choices, narrow your options, line up your priorities, and do what matters most. You must go small.

Pull your purpose [your goal] through to a single priority built by Goal Setting to the Now, and that priority – that ONE Thing you can do such that by doing it everything else will be easier or unnecessary – will show you the way to extraordinary results."
Planting Trees
In The ONE Thing, the authors shared a great story to illustrate the point about thinking big, defining a goal, then going small to make it happen.
"Years ago, I wanted an apple tree on our property. Turns out you can't buy a fully mature one. The only option I had was to buy a small one and grow it. I could think big, but I had no choice but to start small. So I did, and five years later we had apples. But because I thought as big as I could, guess what? You got it. I didn't just plant one. Today – we have an orchard.

Your life is like this. You don't get a fully mature one. You get a small one and the opportunity to grow it – if you want to. Think small and your life's likely to stay small. Think big and your life has a chance to grow big. The choice is yours."
Where is Your Business Going?
Your business is going somewhere. Time is going to pass. Your business is going to generate financial results of some sort or another as each month goes by. The future is going to become the present… very soon.
The big question when it comes to shaping the future of your business is "Where do you want your business to go?" What does financial success in business look like in your mind?
Then think small about what step you should be taking right now to start, or continue, your journey toward the "progressive realization of a worthy goal."
The Monthly Financial Rhythm is the method I use in business to set goals, monitor progress on the key drivers of results, and identify next steps. It is a beautiful method for driving growth, profitability, and cash flow higher.
---
Philip Campbell is an experienced financial officer and author of the book A Quick Start Guide to Financial Forecasting: Discover the Secret to Driving Growth, Profitability, and Cash Flow and the book Never Run Out of Cash: The 10 Cash Flow Rules You Can't Afford to Ignore. He is also the author of a number of online courses including Understanding Your Cash Flow – In Less Than 10 Minutes. His books, articles, blog and online courses provide an easy-to-understand, step-by-step guide for entrepreneurs and business owners who want to create financial health, wealth, and freedom in business.
Philip's 30 year career includes the acquisition or sale of 33 companies (and counting) and an IPO on the New York Stock Exchange.
---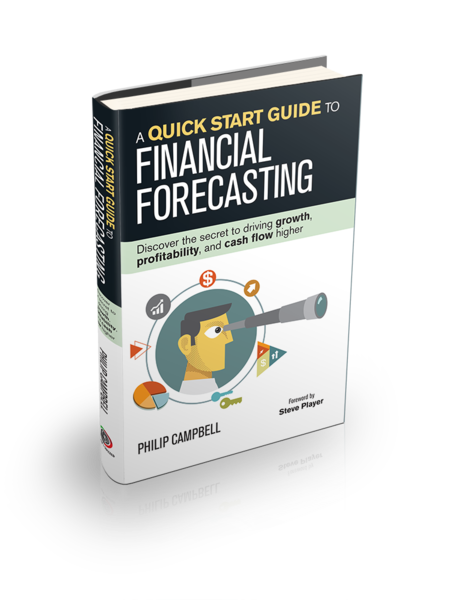 This book provides a straightforward, easy-to-understand guide to one of the most powerful financial tools in business: a reliable financial forecast. It will transform the financial future of your company and help you make better, faster, smarter financial decisions.
Too many entrepreneurs and CEOs today are feeling more like passengers than drivers in their business. They're staring at their rearview mirror as they bounce along in the passenger seat. Their company is careening along on the highway of business as they wonder and worry about where their business might end up financially.
A reliable financial forecast solves this problem by providing a clear view through the financial windshield of your business. It creates the visibility and clarity you need to drive your company toward a bigger and brighter financial future.
What if you had answers to questions like:
What's about to happen to my profitability and cash flow?
How much cash can we distribute to the owners of the business?
How long will it take to pay off our debt?
What will our taxable income be this year?
A reliable financial forecast puts the answers to these questions at your fingertips. It helps you take control of your profitability and cash flow because it gives you answers to the most important financial questions you have to deal with every day.
Put yourself in the driver's seat of your business by tapping into the unique and exciting benefits that financial forecasting can unlock for you.
Buy the Kindle version at Amazon.
Buy the book at Barnes & Noble.
If you already own the book, the free tools and downloads are waiting for you. Click here to access the financial spreadsheets, examples, rapid learning guides, and more.