Thank you for being a member here at Financial Rhythm.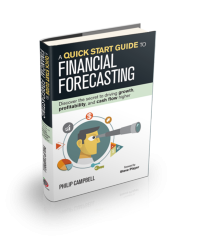 This page has the free tools and spreadsheets for readers of the book A Quick Start Guide to Financial Forecasting: Discover the Secret to Driving Growth, Profitability, and Cash Flow Higher.
This book provides a unique quick start approach to using a reliable financial forecast to help you improve profitability and cash flow. The quick start approach in this book is unique and different than anything you have ever read about how to plan, create, and present a reliable financial forecast. It even includes a 10-step plan that provides a roadmap for building a business that takes care of you financially… not the other way around. This roadmap will guide you along the full financial life cycle of your business.
Buy the Kindle version at Amazon.
Buy the book at Barnes & Noble.
A Real World Example – ABC Construction Company Company (From Chapter 5)
Download the Construction Company Financial Forecasting Model from Chapter 5
In Bonus Chapter 1, I shared with you the Three-Part Plan to Breathe Financial Life Back into Your Business.
I have created a Rapid Learning Guide to dive further into the path to building a strong, wealth generating business?
Download Your PDF Copy of the Three-Part Plan
My Business Book Recommended Reading List
The Financial Team Assessment from Bonus Chapter 2
Download the Financial Team Assessment – PDF Version
Download the Financial Team Assessment – XLS Version
A fun, interactive visual dashboard to quickly assess your "financial confidence factor score"
Financial Forecasting Webinar Recording and Files from May 16, 2017
(The audio isn't perfect… but it gets the job done.) 🙂
Download the Chuy's Holdings, Inc Financial Forecasting Eaxmple – XLS
Download the slides from the webinar – PDF
Send me an email if you have any questions, feedback, or concerns. I would love to help you in any way I can.
Click here to get more complimentary tips, tools, and information at no cost. Please dive in and put the information to work in your business. Taking control of your profitability and cash flow can be fun (I'll show you how). 🙂