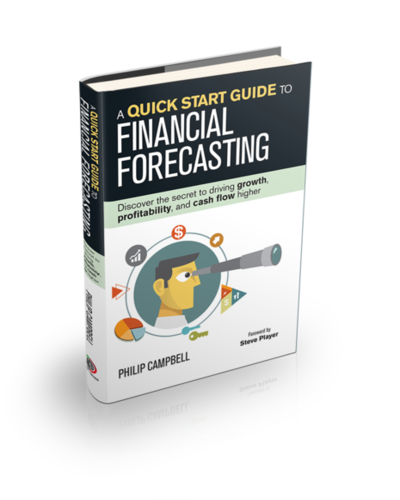 NOTE: If you already own the book, the free tools and downloads are waiting for you. Click here to access the financial spreadsheets, examples, rapid learning guides, and more.
This book provides a straightforward, easy-to-understand guide to one of the most powerful financial tools in business: a reliable financial forecast. It will transform the financial future of your company and help you make better, faster, smarter financial decisions.
Too many entrepreneurs and CEOs today are feeling more like passengers than drivers in their business. They're staring at their rearview mirror as they bounce along in the passenger seat. Their company is careening along on the highway of business as they wonder and worry about where their business might end up financially.
A reliable financial forecast solves this problem by providing a clear view through the financial windshield of your business. It creates the visibility and clarity you need to drive your company toward a bigger and brighter financial future.
What if you had answers to questions like:
What's about to happen to my profitability and cash flow?
How much cash can we distribute to the owners of the business?
How long will it take to pay off our debt?
What will our taxable income be this year?
You can see the Table of Contents and the Introduction here.
A reliable financial forecast puts the answers to these questions at your fingertips. It helps you take control of your profitability and cash flow because it gives you answers to the most important financial questions you have to deal with every day.
Put yourself in the driver's seat of your business by tapping into the unique and exciting benefits that financial forecasting can unlock for you.
Buy the book at Barnes & Noble.
You can see the Table of Contents and the Introduction here.
---
Never Run Out of Cash: The 10 Cash Flow Rules You Can't Afford to Ignore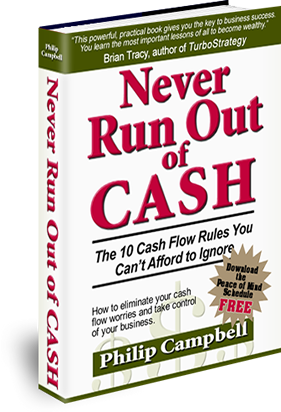 The single biggest reason the small business failure rate is so high today is this one simple fact: Most business owners don't really know what's going on with their most precious asset – their cash.
Despite the fact that cash is the lifeblood of the business, the fuel that keeps the engine running, most business owners don't truly have a handle on the flow of cash into their business and the flow of cash out of their business. As a result, more businesses are failing today than ever before.
Never Run Out of Cash shows you a powerful and simple set of principles that will transform the way you manage your business from this point forward.
It's an easy-to-understand, here's exactly how you do it approach to understanding and managing your cash flow.
Buy the book at Barnes & Noble.
Understanding Your Cash Flow – In Less Than 10 Minutes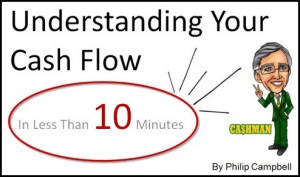 This online course teaches you a simple, step-by-step approach to understanding and managing your cash flow. Here are the two unique promises I make to you in this course:
I'll show you how to understand your cash flow in less than 10 minutes
I'll show you how to explain what happened to your cash last month to your business partner or banker (or maybe even your spouse) in a 2-minute conversation.
I take off my CPA hat and I speak in the language every business owner can relate to. No jargon. No stuffy financial rambling. Just a simple, common sense approach that only takes 10 minutes a month.
The course includes:
The video presentation of the course. This is a screencast that you can watch and listen to on your favorite device. I walk you through the step-by-step process and show you how to understand your cash flow in less than 10 minutes a month.
The course workbook. This is a downloadable workbook to help you get a fast start with the course material. It has all the examples and everything you need to complete your first Cash Flow Focus Report.
The Cash Flow Focus Report. You get the links to download the PDF or spreadsheet version of the Cash Flow Focus Report. 10 minutes a month with this unique and simple tool and you will wonder how you ever got by without it.
The slides from the presentation. You can download a document with a copy of each slide from the presentation so you can go back to any specific example or portion of the recorded presentation.
I provide a no questions asked, 100% refund guarantee with the course. If you don't love the course I'll refund 100% of the purchase price.
Learn more about the course.
If you have already purchased the course (and/or the related coaching), get the full course here.