When you were a kid, did you have a dream of what you wanted to be when you "grew up"?
I did. In fact, three of them.
Here is a quick peek into my evolution as a guy who loves business (especially the financial side of business). I had three dreams or visions for my future as I grew up.
Here is the short version of each one.
Dream #1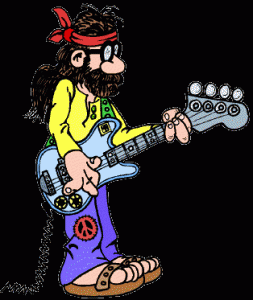 First, I wanted to be a rock n roll lead guitar player. I'd have long hair and a van and play huge crowds. I'd be the best guitar player around. I had imagined it vividly in my head. I was a bona fide Rockstar (in my own mind).
My Mom never would let me grow my hair long (we had some arguments over that often) but she did buy me a black Les Paul copy one year for Christmas. The problem is I realized in short order that I had no talent with the guitar and I was not coachable.
So much for that goal!
Now I live out this dream by enjoying "old school" rock and roll hairbands. Going to their concerts is one of my favorite non-business forms of entertainment. I enjoy LA Guns, Faster Pussycat, Cinderella, Motley Crue, AC/DC, Def Leppard, Tesla, and a lot more! 🙂
Dream #2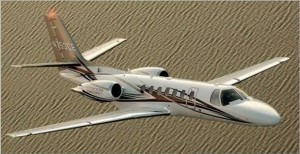 My second dream was to be a corporate jet pilot. I got my pilot's license when I was 17. I worked (pretty much lived) at the Beaumont Municipal airport (in Beaumont, Texas). I fell in love with corporate jets in the process.
On some weekend nights we would rent a Cessna 172 and fly to Houston Hobby airport or to the airport in Jennings, LA. In Jennings, we could taxi over to a parking spot right next to what was then a Holiday Inn and have dinner. It was super cool.
We would have dinner then fly back. Great memories.
I realized I was not prepared to put in the time to get the hours necessary to start making money as a pilot. And I wasn't going to the military because it seemed a bit too rigid for me at the time. (My little brother did go the military route and he flies F-16's in the Air Force and National Guard). I ended up with about 220 flight hours.
I got to enjoy being in the sky later in my 40s through skydiving. I have about 150 jumps under my belt.
Dream #3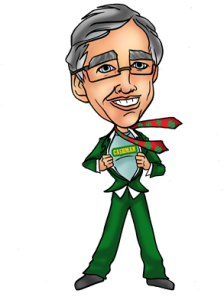 My third dream was to become a business kind of guy and focus on the financial side of business. I'd team up with smart entrepreneurs and provide a unique approach to adding value, creating financial insight (especially around cash flow), and helping them grow a company and make it worth a lot of money (and provide an outstanding product or service to customers at the same time).
I'd be a CPA who understood the business owner's perspective. I'd be a CFO that could help a business owner create a great company that was a success financially. I wouldn't be a typical accountant.
Now that's fun. I found my niche!!!
Focusing intently on adding value, and owning a piece of the companies I work with, has worked out very well for me. I can't tell you how much I enjoy working with smart entrepreneurs and business owners.
Let me know if you are one of those smart entrepreneurs I love to team up with.
Maybe it's time to build a strong financial foundation and really crank the growth engine up. Times a wastin! 🙂
---
Philip Campbell is a CPA, financial consultant, and author of the book A Quick Start Guide to Financial Forecasting: Discover the Secret to Driving Growth, Profitability, and Cash Flow and the book Never Run Out of Cash: The 10 Cash Flow Rules You Can't Afford to Ignore. He is also the author of a number of online courses including Understanding Your Cash Flow – In Less Than 10 Minutes. His books, articles, blog and online courses provide an easy-to-understand, step-by-step guide for entrepreneurs and business owners who want to create financial health, wealth, and freedom in business.
Philip's 30 year career includes the acquisition or sale of 33 companies (and counting) and an IPO on the New York Stock Exchange.
---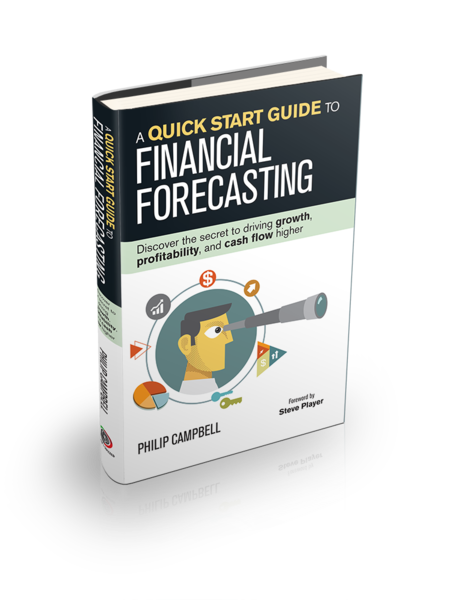 This book provides a straightforward, easy-to-understand guide to one of the most powerful financial tools in business: a reliable financial forecast. It will transform the financial future of your company and help you make better, faster, smarter financial decisions.
Too many entrepreneurs and CEOs today are feeling more like passengers than drivers in their business. They're staring at their rearview mirror as they bounce along in the passenger seat. Their company is careening along on the highway of business as they wonder and worry about where their business might end up financially.
A reliable financial forecast solves this problem by providing a clear view through the financial windshield of your business. It creates the visibility and clarity you need to drive your company toward a bigger and brighter financial future.
What if you had answers to questions like:
What's about to happen to my profitability and cash flow?
How much cash can we distribute to the owners of the business?
How long will it take to pay off our debt?
What will our taxable income be this year?
A reliable financial forecast puts the answers to these questions at your fingertips. It helps you take control of your profitability and cash flow because it gives you answers to the most important financial questions you have to deal with every day.
Put yourself in the driver's seat of your business by tapping into the unique and exciting benefits that financial forecasting can unlock for you.
Buy the Kindle version at Amazon.
Buy the book at Barnes & Noble.
If you already own the book, the free tools and downloads are waiting for you. Click here to access the financial spreadsheets, examples, rapid learning guides, and more.
---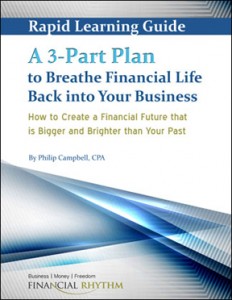 Free Report: A 3-Part Plan to Breathe Financial Life Back Into Your Business
I have created a free report that dives deeper into the 3-Part Plan and each of the 10 steps in the system for making your business stronger financially. And I am making it available at no cost as part of becoming a member of the Financial Rhythm Membership Group.
Financial success in business can transform your life and the life of everyone who is counting on you financially. Winning financially is an important prize in business.
But there's no magic wand you can wave that will instantly create financial success. Winning financially in business is a journey. It's about deciding what you are trying to create financially. Then creating a plan to get you there safely and on time.
This free report provides you an achievable, 3-Part Plan you can begin implementing today. You will be surprised and delighted at the speed with which you see financial results and feel the benefits.
You can sign up for the Free Membership and get instant access to my Free Report: A 3-Part Plan to Breathe Financial Life Back Into Your Business.
And for a limited time, in the Free Membership Area you can download a free copy of my book Never Run Out of Cash: The 10 Cash Flow Rules You Can't Afford to Ignore.
Grab Them Both Right Here – Its Free