Some words seem odd together. Here are some examples:
Found missing
Same difference
Reality television
Long shorts
Adult male 🙂
Silent alarm
Something about those words just makes you go Hmmmmmm?
So what about these two words – Financial Rhythm?
Sound strange? Or sound interestingly at home next to each other?
I Love the Words Financial Rhythm
For me, the words financial rhythm capture the essence of what financial management in a business is all about. As a seasoned CFO, the words financial rhythm paint a beautiful picture in my head of what driving profitability, cash flow and wealth is all about in a business.
A business with an orchestrated financial rhythm in place is a business that takes care of its owners financially. Profits and cash flow are strong. Wealth is being created. Value is being created. Music is being made. There is a pulse, a flow, a cadence at work in the business.
The opposite is a business that struggles financially. A business whose finances are disorganized and chaotic. The music it plays sounds more like scratching your fingernails across a chalk board. There is Financial Chaos at work rather than a natural financial rhythm.
Implementing the Financial Rhythm
There are three parts to implementing an effective financial rhythm in your business.
The 3-Part Plan for creating financial health, wealth, and freedom. I created a Free Report that shows you this 3-Part Plan and how it can breathe financial life back into your business. You can grab the report with your free membership at Financial Rhythm.
The profits, cash flow, net worth cycle. Understanding and managing this cycle wisely is critical to your financial success. Each component plays a different role in creating wealth. And each component requires specific tactics and strategies in order to create what I like to call Happy Owners (business owners who are creating and enjoying financial success). 🙂 I will be writing a lot more about how to effectively manage and improve this cycle for the free members here at Financial Rhythm.
The Monthly Financial Rhythm is a defined process that ties it all together. It is a systematic and methodical process that operates every month to create order and insight. Here is a blog post that talks about the essence of the Monthly Financial Rhythm.
Would Financial Rhythm Be a Good Fit for Your Business?
Financial Rhythm is a membership website for people who are serious about creating financial health, wealth, and freedom in their business.
If you're an entrepreneur or business owner, Financial Rhythm is a place to get simple, actionable strategies for creating a financial future that is bigger and brighter than your past.
And I deliver it all in the language of the business owner.
I have been a CPA for 30 years now. Most of those years in CFO roles. As a CFO, it was my job to work closely with the CEO to help guide the company toward financial success. Because it's impossible to win in business overall without winning financially.
Profits and cash flow are the fuel that powers the engine. You can't be weak financially and expect to create a successful company. You have to be strong. And that requires a very strategic approach to managing the financial side of your business.
That's what Financial Rhythm is all about.
Thinking strategically about what you are trying to create (from a financial perspective).
Putting a system in place that is smart, effective, and easy to follow.
Strategically managing the financial side of your business to create financial health, wealth, and freedom.
That's how you tap into the natural rhythm of business and money.
Your Free Membership is Step 1
I invite you to accept a free membership to the Financial Rhythm website.
It only takes a few seconds to enter your sign up information. Then you'll get instant access to tips and strategies to help make your business strong financially. All at no cost and no obligation.
I believe that making money is good… and having money is even better.
Making your business strong financially is not only good, it's smart. That's not greed. That's just recognizing the reality of business. Your business has to be healthy in order for you, your employees and your customers to survive and thrive.
Here's to your financial health, wealth and freedom in your business.
Click here to join the free membership area.
---
Philip Campbell is a CPA, financial consultant, and author of the book A Quick Start Guide to Financial Forecasting: Discover the Secret to Driving Growth, Profitability, and Cash Flow and the book Never Run Out of Cash: The 10 Cash Flow Rules You Can't Afford to Ignore. He is also the author of a number of online courses including Understanding Your Cash Flow – In Less Than 10 Minutes. His books, articles, blog and online courses provide an easy-to-understand, step-by-step guide for entrepreneurs and business owners who want to create financial health, wealth, and freedom in business.
Philip's 30 year career includes the acquisition or sale of 33 companies (and counting) and an IPO on the New York Stock Exchange.
---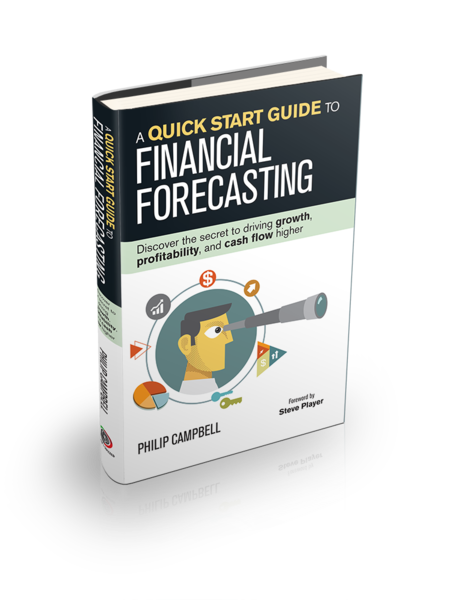 This book provides a straightforward, easy-to-understand guide to one of the most powerful financial tools in business: a reliable financial forecast. It will transform the financial future of your company and help you make better, faster, smarter financial decisions.
Too many entrepreneurs and CEOs today are feeling more like passengers than drivers in their business. They're staring at their rearview mirror as they bounce along in the passenger seat. Their company is careening along on the highway of business as they wonder and worry about where their business might end up financially.
A reliable financial forecast solves this problem by providing a clear view through the financial windshield of your business. It creates the visibility and clarity you need to drive your company toward a bigger and brighter financial future.
What if you had answers to questions like:
What's about to happen to my profitability and cash flow?
How much cash can we distribute to the owners of the business?
How long will it take to pay off our debt?
What will our taxable income be this year?
A reliable financial forecast puts the answers to these questions at your fingertips. It helps you take control of your profitability and cash flow because it gives you answers to the most important financial questions you have to deal with every day.
Put yourself in the driver's seat of your business by tapping into the unique and exciting benefits that financial forecasting can unlock for you.
Buy the Kindle version at Amazon.
Buy the book at Barnes & Noble.
If you already own the book, the free tools and downloads are waiting for you. Click here to access the financial spreadsheets, examples, rapid learning guides, and more.
---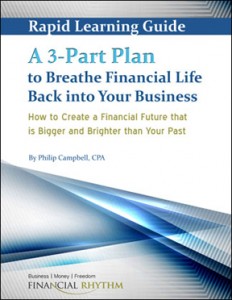 Free Report: A 3-Part Plan to Breathe Financial Life Back Into Your Business
I have created a free report that dives deeper into the 3-Part Plan and each of the 10 steps in the system for making your business stronger financially. And I am making it available at no cost as part of becoming a member of the Financial Rhythm Membership Group.
Financial success in business can transform your life and the life of everyone who is counting on you financially. Winning financially is an important prize in business.
But there's no magic wand you can wave that will instantly create financial success. Winning financially in business is a journey. It's about deciding what you are trying to create financially. Then creating a plan to get you there safely and on time.
This free report provides you an achievable, 3-Part Plan you can begin implementing today. You will be surprised and delighted at the speed with which you see financial results and feel the benefits.
You can sign up for the Free Membership and get instant access to my Free Report: A 3-Part Plan to Breathe Financial Life Back Into Your Business.
And for a limited time, in the Free Membership Area you can download a free copy of my book Never Run Out of Cash: The 10 Cash Flow Rules You Can't Afford to Ignore.
Grab Them Both Right Here – Its Free