There is a very good reason that cash flow is so confusing to business owners.
The confusion starts with how cash flow is defined in the first place!!!
Please take a minute to answer two super-fast questions below about how you define cash flow in your business.
Create your own user feedback survey
You can see the survey results here. (And I also provide you some surprisingly simple tips to help you better understand and manage your cash flow.)
Thank you very much for your help in the survey.
Simplifying your cash flow is the key to moving from confusion and frustration in business… to understanding and peace of mind.
---
Philip Campbell is an experienced financial consultant and author of the book A Quick Start Guide to Financial Forecasting: Discover the Secret to Driving Growth, Profitability, and Cash Flow and the book Never Run Out of Cash: The 10 Cash Flow Rules You Can't Afford to Ignore. He is also the author of a number of online courses including Understanding Your Cash Flow – In Less Than 10 Minutes. His books, articles, blog and online courses provide an easy-to-understand, step-by-step guide for entrepreneurs and business owners who want to create financial health, wealth, and freedom in business.
Philip's 35 year career includes the acquisition or sale of 35 companies (and counting) and an IPO on the New York Stock Exchange.
---
Understanding Your Cash Flow – In Less Than 10 Minutes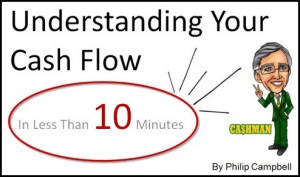 This online course teaches you the step-by-step process for simplifying your cash flow. I walk you through each lesson while you watch, listen, read and try it yourself using your own cash flow numbers.
The course is very affordable. And there are also some coaching options available if you would like to get up and running fast.
It's a fantastic way to learn the process.
I take all the risk out of your purchase because I include a 100%, no questions asked, money-back guarantee. You love it or you get your money back in full. Period.
There are two things that are very unique and exciting about this online course.
1. I'll show you how to understand your cash flow in less than 10 minutes
2. I'll show you how to explain what happened to your cash last month to your business partner or banker (or maybe even your spouse) in a 2-minute conversation.
I take off my CPA hat and I speak in the language every business owner can relate to. No jargon. No stuffy financial rambling. Just a simple, common sense approach that only takes 10 minutes a month.
Here is how one business owner describes the benefits of the course.
"I googled cash flow projections and found your website online and it appealed to me mainly due to the fact that you speak in laymen's terms in a way that a non-financially trained person can understand.

The fact that you said you can understand your cash flow in less than 10 minutes a month was also a big reason I bought it.  And the fact that you acknowledge that most accountants and CPA's speak in terms that the normal owner cannot understand and that you would be able to put things in understandable terms really got me.

The monthly cash flow focus report was the best feature for me because learning to do it helped me understand my cash flow statements and the biggest drivers of cash flow.

Another significant benefit is the definitions of cash flow drivers and descriptions of how a negative or positive sway in cash within those drivers affects cash flow.  Being able to see at a quick glance monthly what happened to your cash using the focus report is a huge benefit."
CLICK HERE TO LEARN MORE ABOUT THE CASH FLOW COURSE