Financial Forecasting Book – Free Downloads and Tools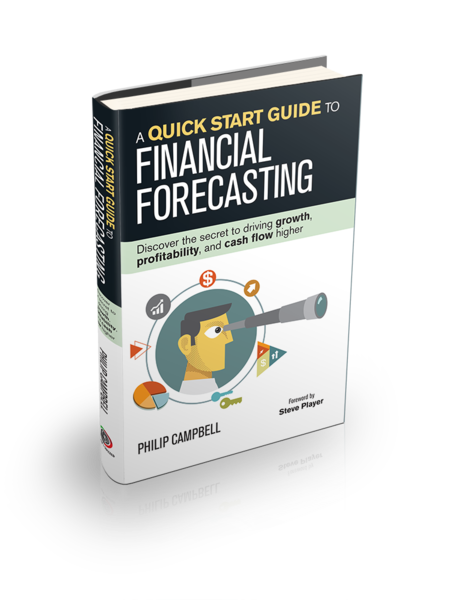 This page is your ticket to the free downloads and tools for readers of A Quick Start Guide to Financial Forecasting: Discover the Secret to Driving Growth, Profitability, and Cash Flow Higher. The book is available in hardcover and electronic formats at Amazon, Barnes & Noble, or your favorite online bookstore.
Incredibly Insightful. Immediately Applicable. Game Changer!

Without a doubt, this is the single best book I've ever read on accounting and finance to drive growth and profitability! Philip Campbell is a down-to-earth finance professional. His material is simple to understand and easy to apply. That said, there are literally millions of dollars of tactical and practical strategies, tools and resources hidden in plain sight within this twenty some dollar book.

The clarity and content in the introduction alone is worth tens of thousands of dollars. My review copy looks like an adult coloring book filled with highlights and notes for specific ideas and application. Philip Campbell created an easy framework for making an accounting and finance system specifically for fast growth entrepreneurs and business executives.

As a bonus, I found this to also be a major relationship resource enhancer between business development executives and finance/accounting executives. Each group has a unique language and skill-set sometimes in conflict with the opposite group. Each may want the same result, but are usually ill equipped to effectively communicate with each other. Philip's toolkit handily bridges this gap like an experienced marriage counselor teaching a newly married couple how to both get what they want through enhanced communication and alignment.

I can't wait to get a copy of this into the hands of every one of my entrepreneur and business builder clients — Bravo and thank you Philip!
—Frank F. Lunn, CEO – Kahuna Accounting
Philip's approach to financial forecasting has helped us completely turn around our profitability and cash flow and get it moving in a positive direction. I love the way he speaks and writes in a way that is simple and easy-to-understand. The principles in A Quick Start Guide to Financial Forecasting have become an integral part of how we plan and manage our financial future every month.
—Andrea Sato, Chief Executive Officer, Gary's Vacuflo, Inc.
What I like about Philip's book is the very practical way it helps organizations get started in forecasting. Many organizations are overwhelmed by the vast array of potential drivers they could use. Some who have tried to use rolling forecasts get lost trying to create the perfect predictive logic diagram. This book takes a simpler approach.

It reduces complexity by simply asking what two numbers can you multiply together to forecast the direction of your business. By starting with the simple equation of price multiplied by quantity, virtually any business can get started with forecasting quickly.
—Steve Player, Director, Beyond Budgeting Round Table North America, Co-author, Future Ready: How to Master Business Forecasting
I believe a business owner that is making some money, but not getting where he/she really wants to be, will benefit the most from this book. Sometimes business owners find themselves depressed for not having done 'all the right things'. This book will inspire you to buckle down, take steps to create a reliable, top down overview and forecast, then hone in on where your business is truly going. THEN you can align it to where YOU want it to go!
—John Albers, President/CEO, The Albers Group, LLC
Want to hear what other customers and readers of the book are saying?
Take a quick look at the customer reviews and testimonials from business owners, entrepreneurs, CFOs, CPAs, and a long and growing list of business advisors who are using the power of financial forecasting to help business owners create a bigger and brighter financial future.
Buy the Kindle version at Amazon.
Buy the book at Barnes & Noble.
Free Downloads and Tools for Readers of the Book
I love forecasting because it is such a powerful tool for helping you drive growth, profitability, and cash flow. It will change the way you plan and manage the financial side of your business. I'm so glad you read the book and have made the commitment to get started.
Here is a sampling of the free downloads and tools you can access to support your financial forecasting work:
The spreadsheet financial forecasting model used to create the ABC Construction Company example in Chapter 5.
Videos and webinar recordings to help you get started with your first financial forecast.
Additional financial models you can tailor to your business.
The financial team assessment (from one of the bonus chapters).
My list of recommended business books.
… And a lot more.
It's all available at no cost (and no obligation) with your free membership at Financial Rhythm.
Just grab your free membership real fast and then you will get instant access to the free downloads, tips, tools, and goodies. Enjoy!
Grab Your Free Membership Here